Authorized James Hardie Installer!
All of our installers have been trained to install HardiePlank Lap and Hardie Color Plus. You can be sure that the insulation of your new siding qualifies for the Manufactures 30 year warranty.
Hardie is one of the siding products that we install and are proud to be involved with there Associate Contractor Program.
HardiePlank Lap Siding
HardiePlank lap siding is the most popular brand of siding in America and can be found on over 5.5 million homes. With its strength, beauty and durability, HardiePlank lap siding enhances and protects homes in all kinds of climates—and now, with the HardieZone® System, James Hardie provides fiber cement siding with specific performance attributes relative to the climate where the siding product is being used. James Hardie now gives you the optimum siding for your home and climate, regardless of location.
All HardiePlank lap siding comes in a variety of looks and textures, all of which are Engineered for Climate®. We are so sure about how well the HardieZone system will perform, HardiePlank lap siding comes with a 30-year nonprorated, transferable, limited warranty—our strongest warranty ever.
HardieShingle Fiber Cement Siding
The timeless style of a shingle-sided home is unmistakable. Whether as the primary siding on all four sides or as a complementary siding in accent areas, shingle siding adds unmistakable charm and character to any home. But with cedar shingles, this design appeal has traditionally come at the expense of continual, costly maintenance.
HardiePanel Fiber Cement Siding
Whether your looking for a Modern design or maybe a more traditional look, With Hardie Panel you can use a smooth panel or add Hardie trim to do a Board and batt, It also comes in Stucco and Cedarmill finishes.
Artisan Lap Fiber Cement Siding
Artisan lap is the only architectural grade exterior design product that couples stunning beauty with superior structural integrity. Displaying custom artistry in every exquisite detail, Artisan Lap allows you to implement a distinct element of style to your home, satisfying your aspiration for architectural excellence. You don't have to compromise on any level. Artisan lap provides you with the best in appearance, materials, quality and durability.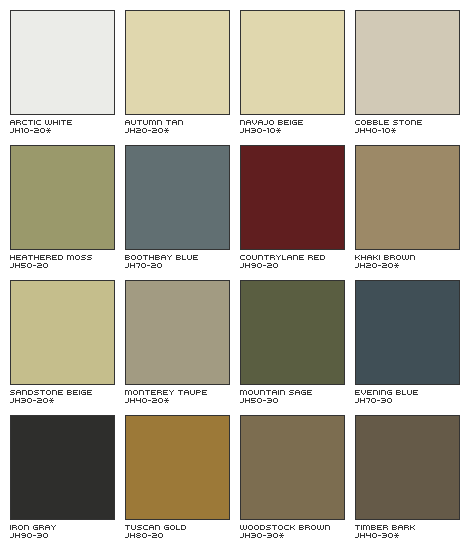 ColorPlus Fiber Cement Siding
James Hardie® siding with ColorPlus® Technology combines advanced fiber cement formulation with a factory-applied, baked-on finish. Products are made using the highest quality raw materials and with an proprietary manufacturing process and equipment, revolutionary finish technology and innovative color process, James Hardie® is able to provide homeowners a superior siding solution for their homes
The James Hardie ColorPlus technology finish also represents a revolutionary breakthrough. The paint used in the process was made especially for James Hardie siding after more than four years in development and over 2,000 formulas tested. The end result is a durable, low-maintenance finish that lasts up to two times longer, has 30% better fade resistance and adheres up to 400% better than any other paint available.1 And, James Hardie backs its ColorPlus technology finish with a 15-year limited warranty that covers both paint and labor.2